There are dozens of ways to enjoy one of the 419 National Parks in the US.
These timeless landscapes inspire generation after generation. They range from red rock and harsh environs, to towering waterfalls and lush forests. While there are plenty of ways to enjoy a National Park's natural beauty, cycling is one of the best. Allowing you the benefit of being out in the open air experiencing a park the way its meant to be, and still providing quick enough transportation to see as much as there is to see.
We at Trail Truffles love a good dirt path to hike on, but we also appreciate winding roads that lead you to vistas where its true magnificence is more fully appreciated when you hammer your own way to the top. Here is our list of the best places to get your bike out and go for a ride.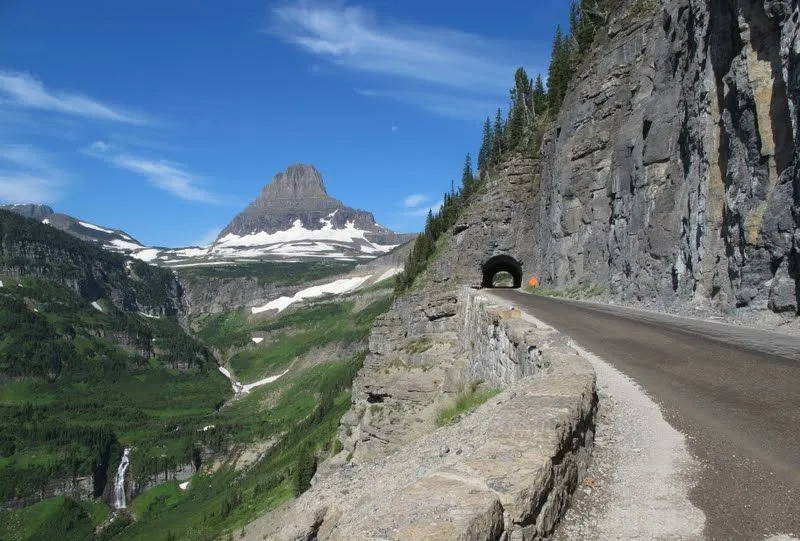 GLACIER NATIONAL PARK, montana
It's no surprise that Glacier NP is one of the best locations out there for cycling tourists. Stunning views of Alp-Esque peaks, clear blue lakes, and lush forests are all on the agenda. The primo cycling route is Going-to-the-Sun road, a 50-mile tour if you ride it in its entirety. This route passes by the park's namesake and awe-inspiring glaciers and the Matterhorn shaped peak of Mount Reynolds.
The 50-mile narrow mountain road climbs 3,300 feet for the first 32 miles from the Apgar Visitor Center to Logan Pass. The last 10 miles hold the brunt of that elevation gain with an average gradient of 5.7%.1 Bring your climbing legs along with a few pouches of Mint Creme truffles. This climb rivals some of the monsters in the Tour d France and would likely be a category 1 climb. Feel free to take a few truffle breaks to admire the wildlife.
After reaching Logan Pass the road travels 18 miles down to Glacier National Park's east entrance. Check the website for road restrictions before planning your trip. Early spring is your best bet when the road is open to cyclists but not to vehicles.2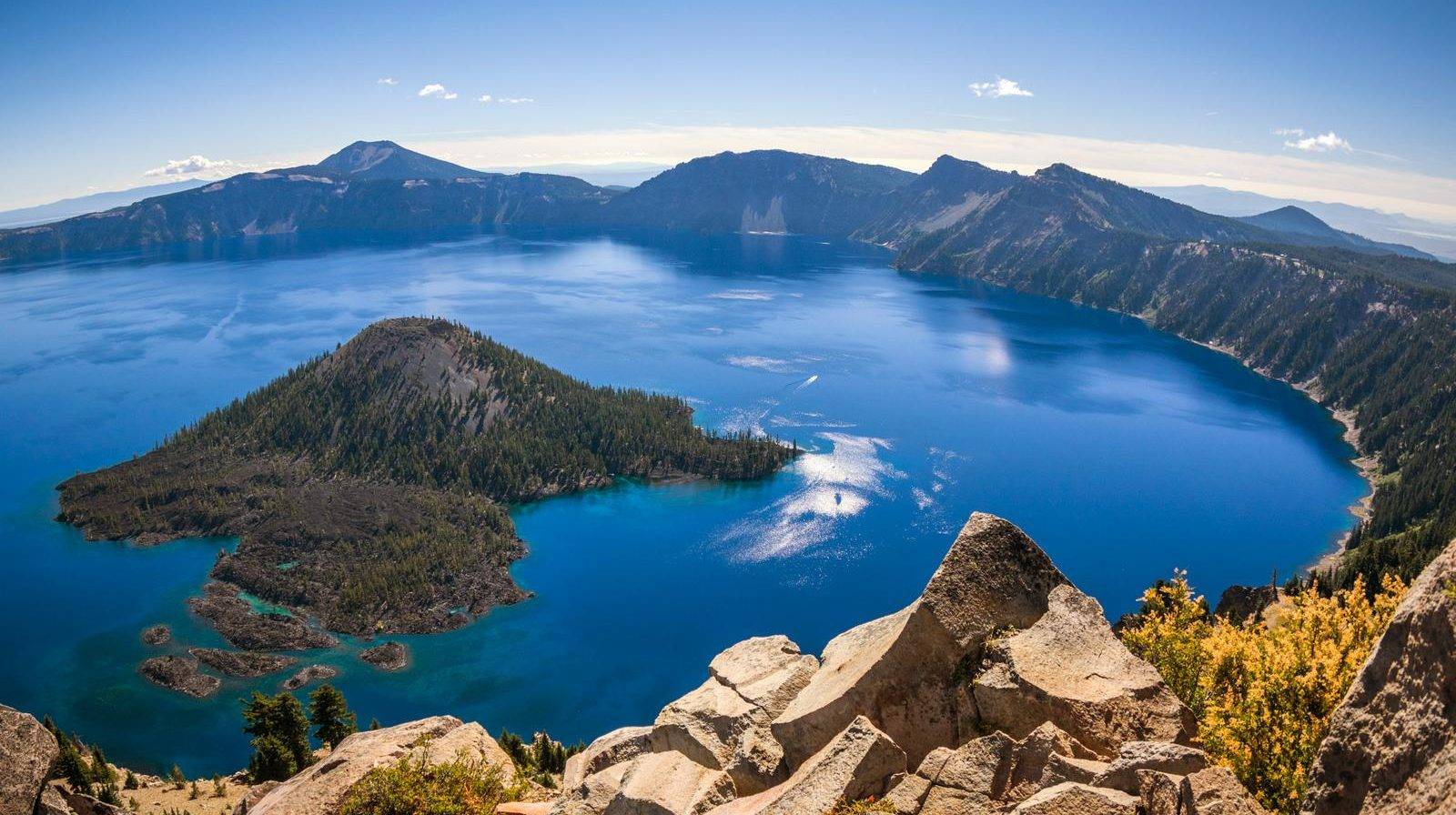 CRATER LAKE, oregon
Crater Lake has long been included in lists of "Dream Rides" for good reason—the views are incredible. The 33-mile road circumnavigates the mystical lake's perimeter and is lined with pine trees. The road is closed during the winter months with its average annual snowfall of more than 44 feet, but it is open to cyclists and hikers several days each year: go here for more information on car-free opportunities. You can also register to ride on those days for free at ridetherim.com.2
If you plan it right and sneak in a ride in that time frame, you will cycle beside America's deepest lake (1,943 feet). The crater was formed when Mount Mazama erupted and collapsed almost 8,000 years ago. Crater lake now enchants guests with its rich blue waters shimmering within a 6-mile-wide caldera.1 cycling around this beautiful lake 3 times gives one the chance at completing the century of a lifetime.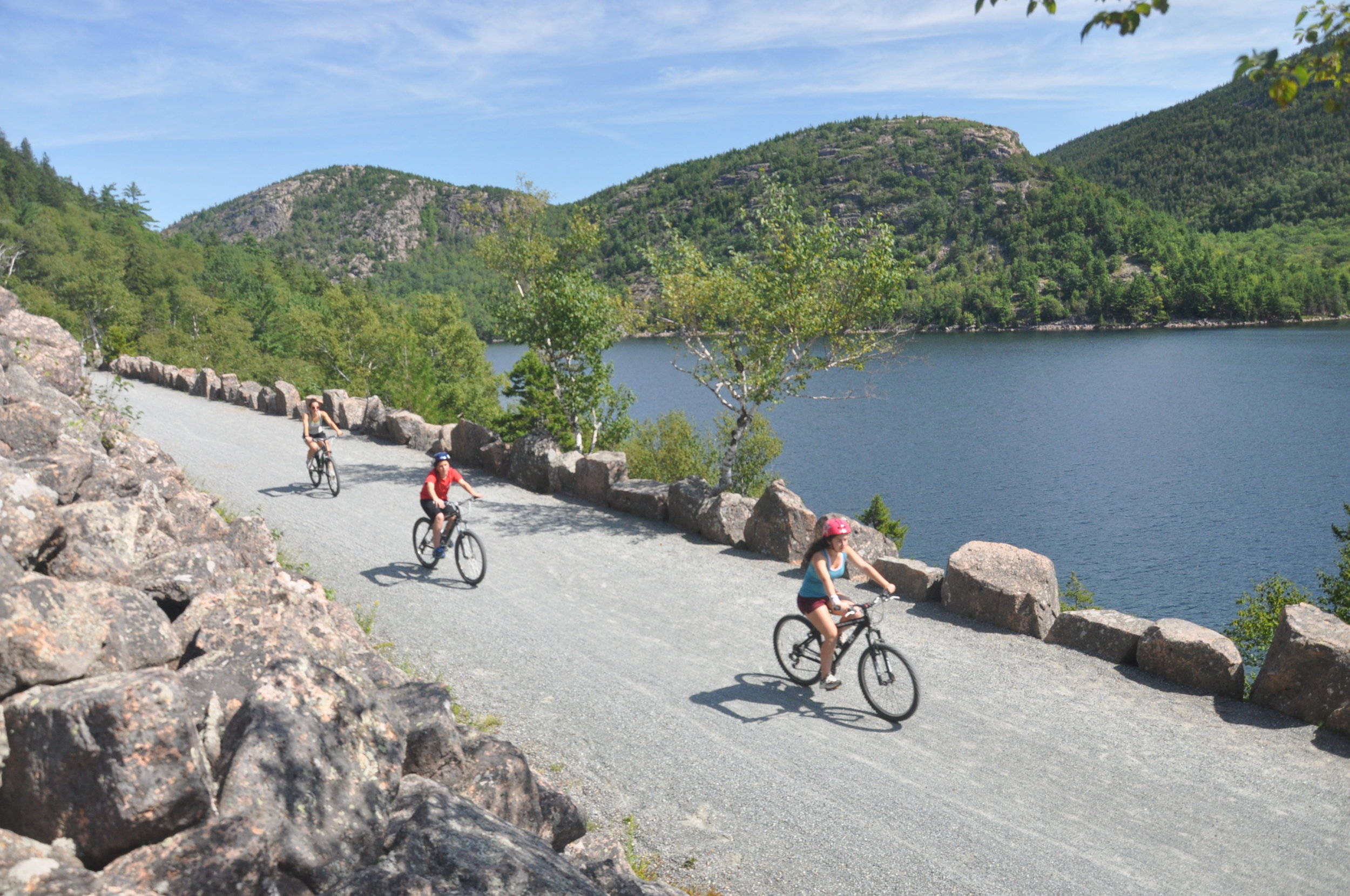 ACADIA NATIONAL PARK, maine (Gravel)

It's not hard to see why Acadia National Park was labeled by James Kaiser, author of "Acadia: The Complete Guide", as "one of the best national parks for biking". With a 45 mile network of crushed-rock carriage roads that are closed to motor vehicles, Acadia National Park is a utopia for gravel grinders and cyclists of all ages and levels of cyclists. The roads pass by some of the park's most beautiful scenery, including lakes, ponds, and waterfalls. The trails pass over "17 gorgeous stone bridges that make you feel like you're stepping into a fairy tale."3
In general, the 27 mile Park Loop Road  is relatively level. The climb to reach the peak of Cadillac Mountain (1,530 ft) presents steep grades but as a reward, you get commanding views of the Maine coast. Cadillac Mountain is also famous for being one of the first places in the U.S. where the sunrise is visible every morning. The climb up is gradual with stunning views. Ride it in the summer when the wind chill at the top isn't so bad, you'll want to linger and soak in the views.1
MESA VERDE NATIONAL PARK, colorado
The underdog of this group. Mesa Verde doesn't get much attention from the cycling crowd as a hot-spot, but there-in lies the beauty. Mesa Verde is an underdog in general, meaning less traffic, less stress, and more time enjoying the ride. That doesn't mean that it's by any means not worthy of being on this list in terms of beauty. Mesa Verde (Green Table) is an 8,000 ft high plateau in the 4 corners region littered with rich views and even richer archaeological history.
Mesa Verde has over 4,700 archaeological sites including 600 cliff dwellings and the mesa top sites of pithouses, pueblos, masonry towers, and farming structures, with many more yet to be revealed. The cliff dwellings of Mesa Verde are some of the most notable and best-preserved ruins in the North American continent.8 The main road will take you 20 miles into the park as it twists and climbs from 7,000 ft to 8,300. There will be turnouts for viewpoints and truffle breaks as you make your way up towards the cliff dwellings. The park does have a small visitor area that includes shops and food. If you want to see everything the park has to offer you'll have roughly 75 miles to tackle. Apart from fascinating cliff dwellings, expect to see wildlife and eerie landscapes filled with hollow trees left behind from past wild fires.
Note: You are required to have a headlight and taillight on your bike to pass through the parks only tunnel which is towards the beginning of the ride.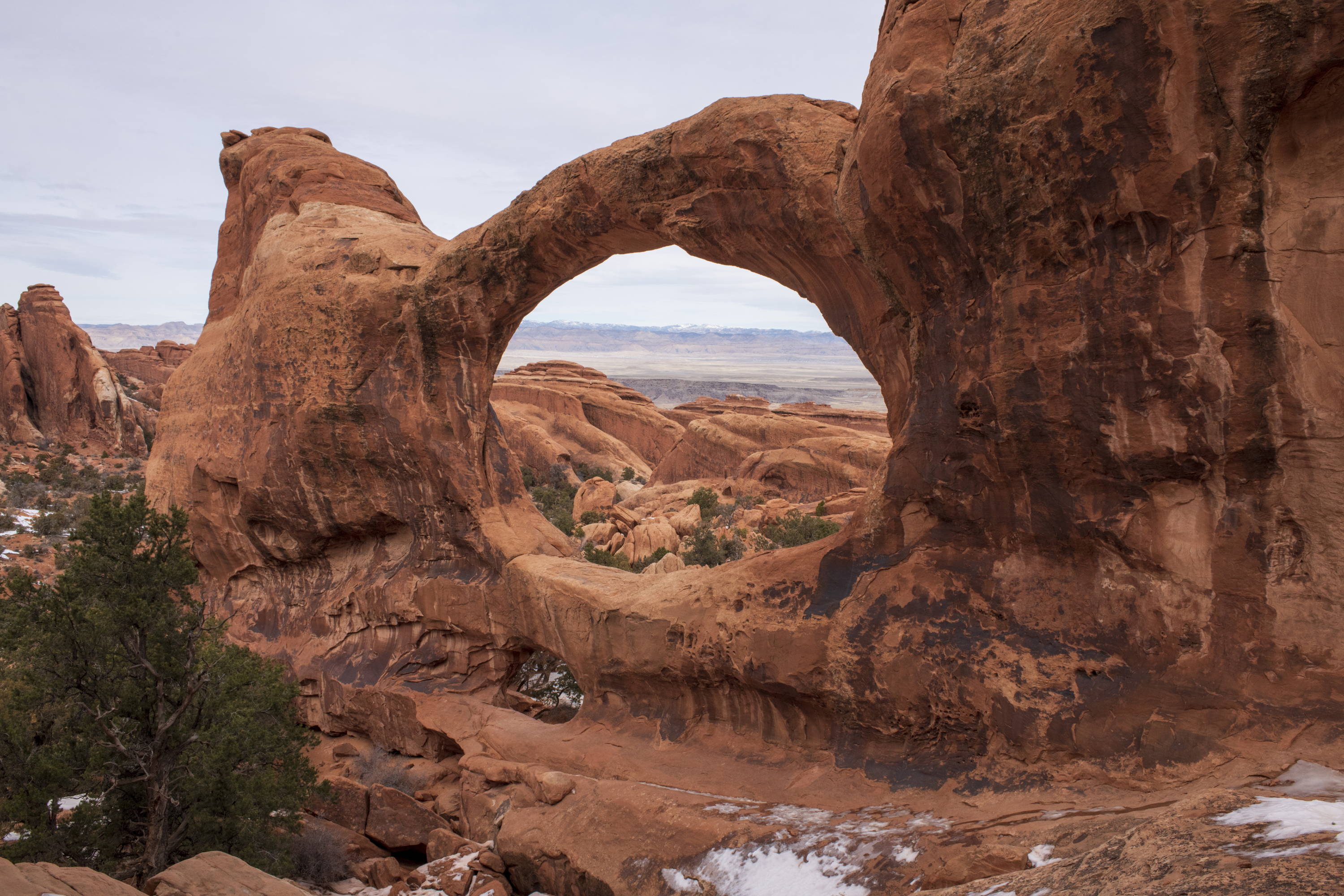 ARCHES NATIONAL PARK, utah
One of Utah's shining gems, and not the only Utah location on this list (though we did try to check our bias at the door), Arches National Park is iconic for its fragile yet inspiring sandstone arches. The landscape is filled with other geological oddities including fins and towers. The park mainly draws crowds of hikers, but an 18-mile long road with no shortage of jaw-dropping sights makes this is a cycling dream. Being a larger park, the funds allow for adequate road maintenance and smooth riding. Cycling is allowed on all paved and unpaved roads. Bring a bike lock with you and you can take your time exploring the many well-cared for trails to get an all-inclusive experience of Arches National Park. Starting early in the morning is the best approach as there is no bike lane and the shoulder is narrow. If you want to cycle Arches you should also try to avoid busy weekends and holidays which bring more traffic.
After 18 memorable miles in otherworldly scenery, you'll reach the road's endpoint. Enjoy a break and refill water at the Devils Garden campground. Then hop back on your bike and retrace this spectacular route back to your car. 5
Arches National Park is conveniently a stone's throw away from Utah's mountain bike mecca, Moab. For an epic cycling adventure bring both bikes for a few days. Ride Arches during the week, then head to the hundreds of mountain biking gems near Moab on the weekend. You can also save some room by renting your bike at one of Moab's many bike rental shops!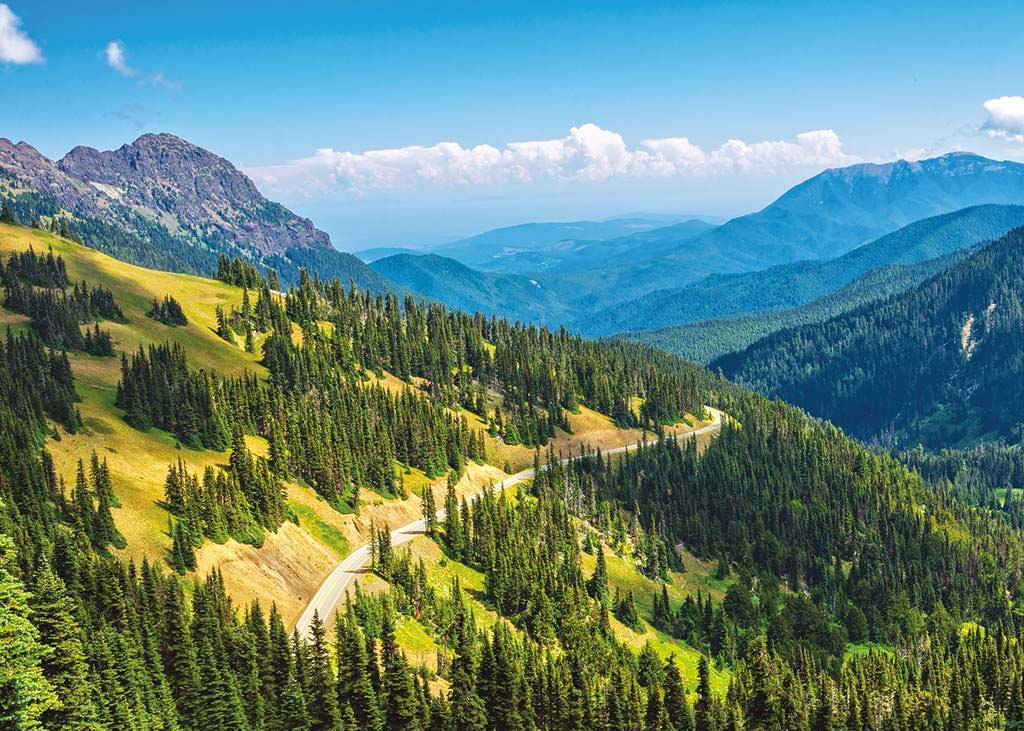 OLYMPIC NATIONAL PARK, washington
If you can't decide between the ocean and the mountains Olympic National Park has both! While the park has many cyclist-friendly options, Hurricane Ridge is the big cheese. The Global Cycling Network recently named it one of the Top 10 road climbs in America. The climb starts at just 34 feet above sea level in Port Angeles and rises to an elevation of 5,242 feet in 17.5 miles.6  The road from sea level to alpine meadows is one for experienced riders, but for those that are up for a challenge this ride offers up unrivaled views of the Olympic Mountains as a reward. Caeli Quinn, the co-founder and executive director of Climate Ride, described it as "an epic ride for serious riders." The 17-mile ascent is not for the faint of heart. At the Hurricane Ridge Visitor Center, valiant cyclists will find snacks, several hiking trails, a grand view of Mount Olympus and perhaps a few blacktail deer grazing.7
For riders seeking some more relaxed riding, There is the Olympic Discovery Trail, a mixture of paved off-road trail, back-country roads, restored railroad. On the ODT cyclists encounter old-growth forests, mountain vistas, rolling farmland, serene lakes, flowing rivers and ocean beaches. There are currently 69 miles of completed trail with multiple access points making it easy to enjoy the trail in bite-size pieces.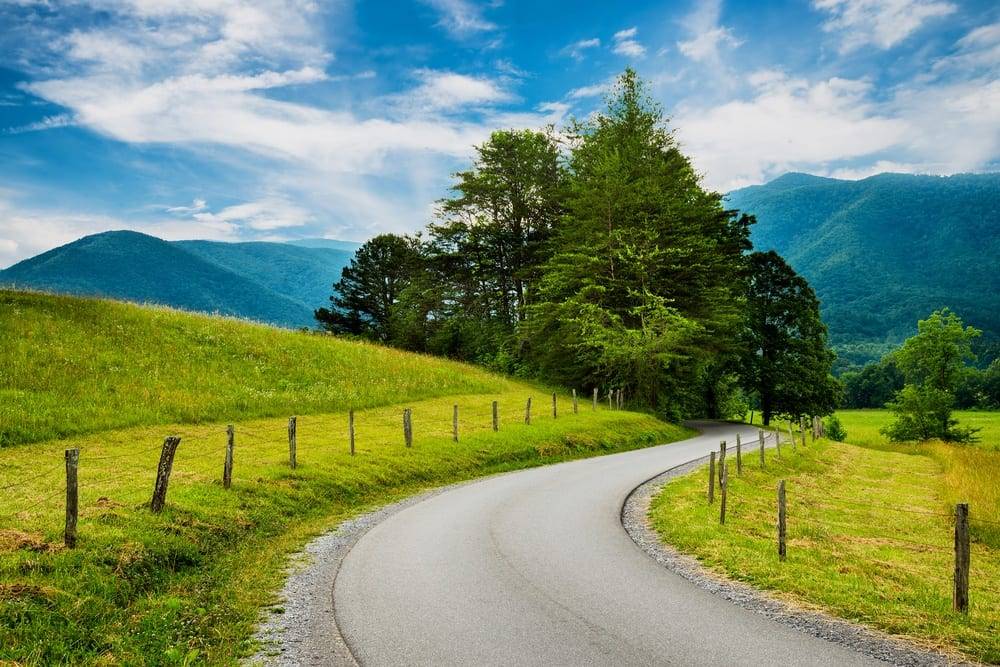 GREAT SMOKY MOUNTAIN, north carolina

While the entirety of Great Smoky Mountain NP is absolutely worth checking out, Cades Cove Loop is the best spot for cycling. May through September, the park closes the loop to automobile traffic on Wednesdays and Saturday mornings, so cyclists can enjoy Cades Cove fully. The loop is an 11-mile blissful bucket-list ride on a one-way road that has plenty of history, wildlife, and nature to show. When biking the Cades Cove Loop, you will get to see some of the area's first major settlements.9
The terrain is rolling and not too challenging for less-experienced cyclists, you can rent bikes at the Cades Cove Campground store during summer and fall. Ride highlights include a backdrop dotted with 19th-century homesites, churches, and barns—plus tons of opportunities to view area wildlife. Expect to take your time with the route and meet lots of other cyclists out doing the same!2,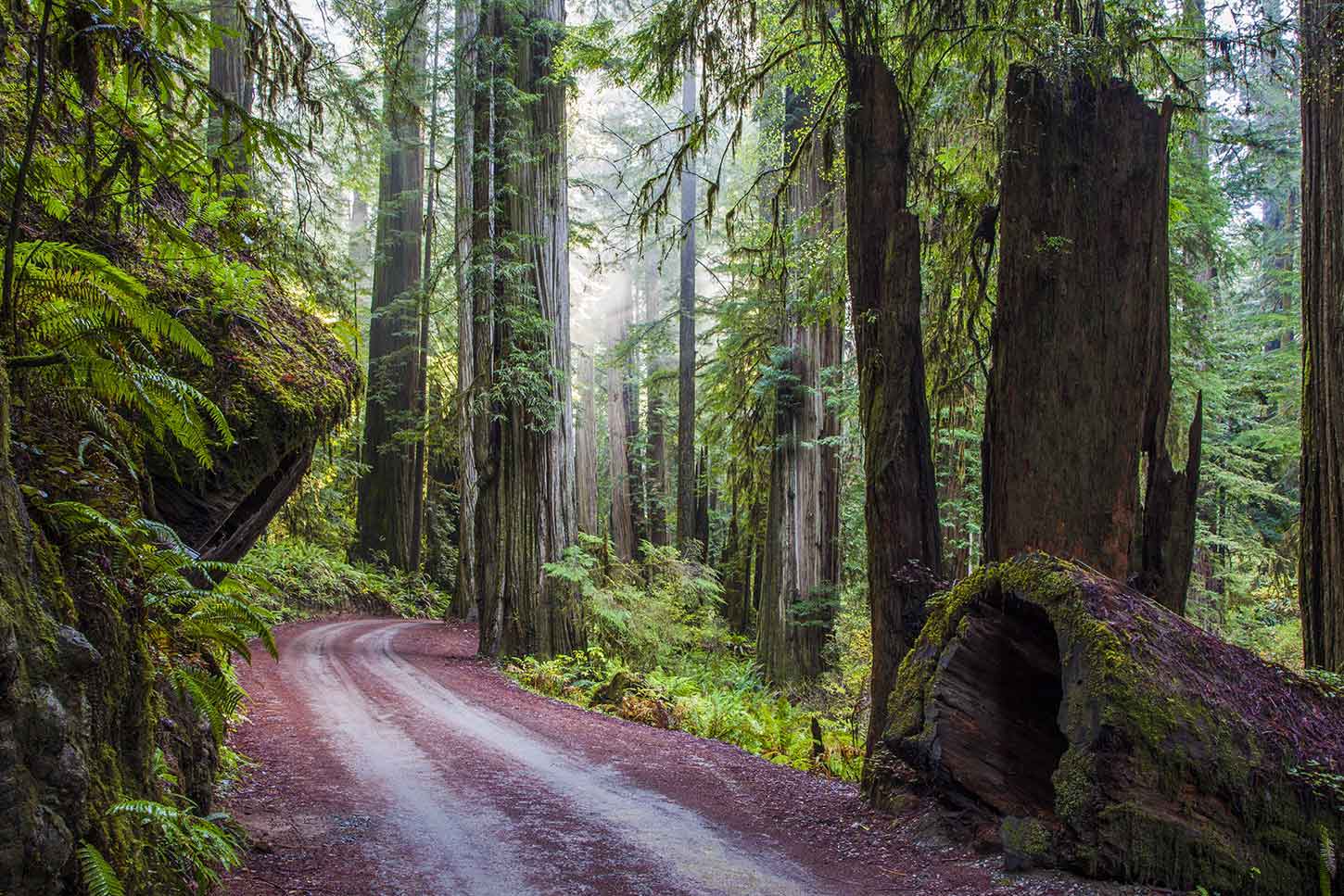 REDWOOD NATIONAL PARK, california

With very little car traffic and plenty of opportunities to add mileage where your heart desires, Redwood NP is a cycling dream come true. The Avenue of the Giants is an aptly named ribbon of road that transports you to another dimension, cycling through a tunnel of ancient, skyscraper trees. You will encounter a 950-year-old tree, a house built into a redwood, and not just a tunnel of trees, but an actual tunnel through a tree.2
Redwood also has 50 miles of gravel grinding bliss through the forest and along the coastline which offers challenging hills and single-track for the avid cyclist. Riding through the lush landscape alongside the coast is not just rewarding, but enlightening. There are opportunities to camp as you plan your adventure. The trails offer some amazing hiking experiences as well, so make sure to bring a pair of good hiking or trail running shoes to get the most out of this journey.4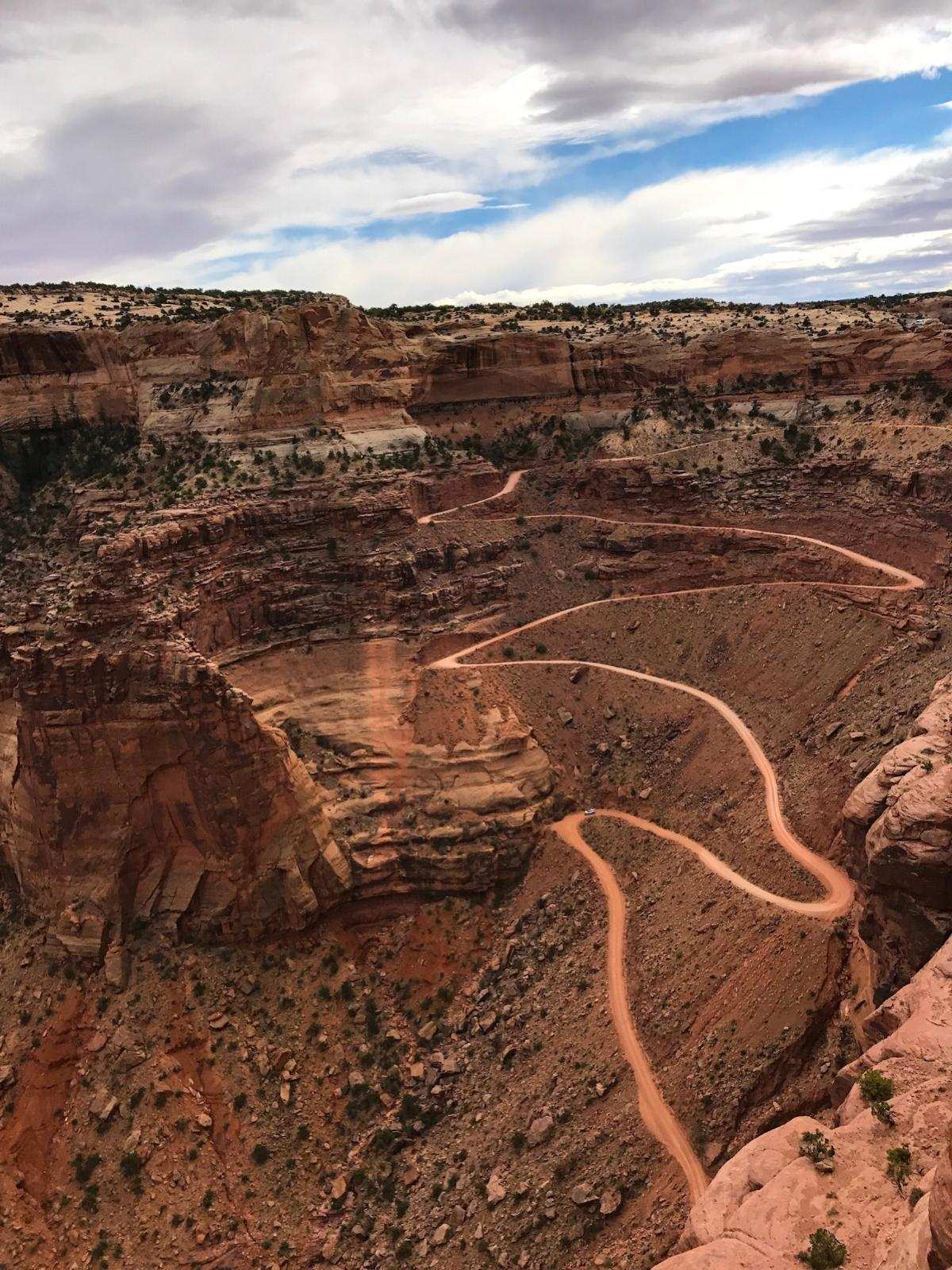 CANYONLANDS NATIONAL PARK, ut

(mtb and gravel)
This is one where you will want a bike capable of taking a beating and a road bike with skinny tires is going to be... uncomfortable. The appeal of Canyonlands is the White Rim Trail. It is a 103-mile loop on 4x4 roads with stunning views of sandstone cliffs. The riding isn't too gnarly or technical, but what it lacks in chunk it makes up for in distance and climbing. This is an ideal destination for gravel bikes and those learning how to ride a mountain bike with some cycling endurance already under their belt.
This journey is typically tackled over a few days. There are campsites all along the way. You will want to be punctual about booking as the waitlist for reservations can be long.2 Permits are required for camping. You can check out Rim Tours for a variety of cycling adventures. The route is largely downhill with a few punchy climbs.4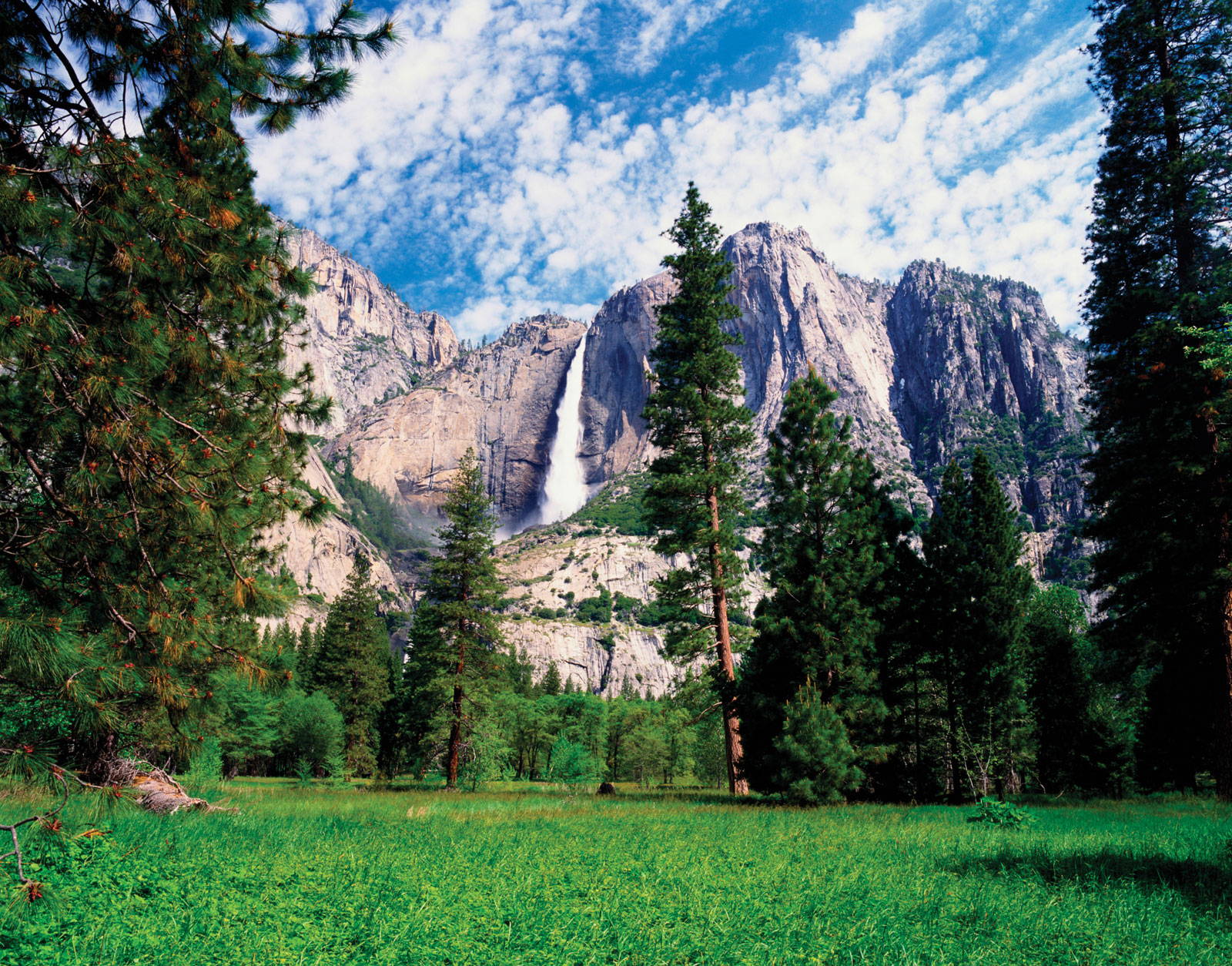 YOSEMITE national park, california
Yosemite is a particularly crowded national park, and it's for obvious reasons. The valley is absolutely breath taking with its giant, ancient sequoia trees, the iconic vista of towering Bridalveil Fall and the granite cliffs of El Capitan and Half Dome. With all the popularity comes some pretty heavy traffic. The best way around that? You got it. Bicycles.
Yosemite has 12 miles of designated bike trails that pass through the valley and are relatively easy. This makes them a great choice for casual cyclists and young cyclists alike. The most popular loops pass through the park's two villages, hiking trailheads, iconic scenic vistas, and picnic spots.3 Aside from the designated cycling paths, cyclists are also allowed on all of the National Parks paved roads.