Snowshoeing 101: Snowshoe tips and advice for the beginner.
This is the first installment of the "intro series", where we introduce you to the basics of different outdoor activities, and encourage you to step outside of your comfort zone!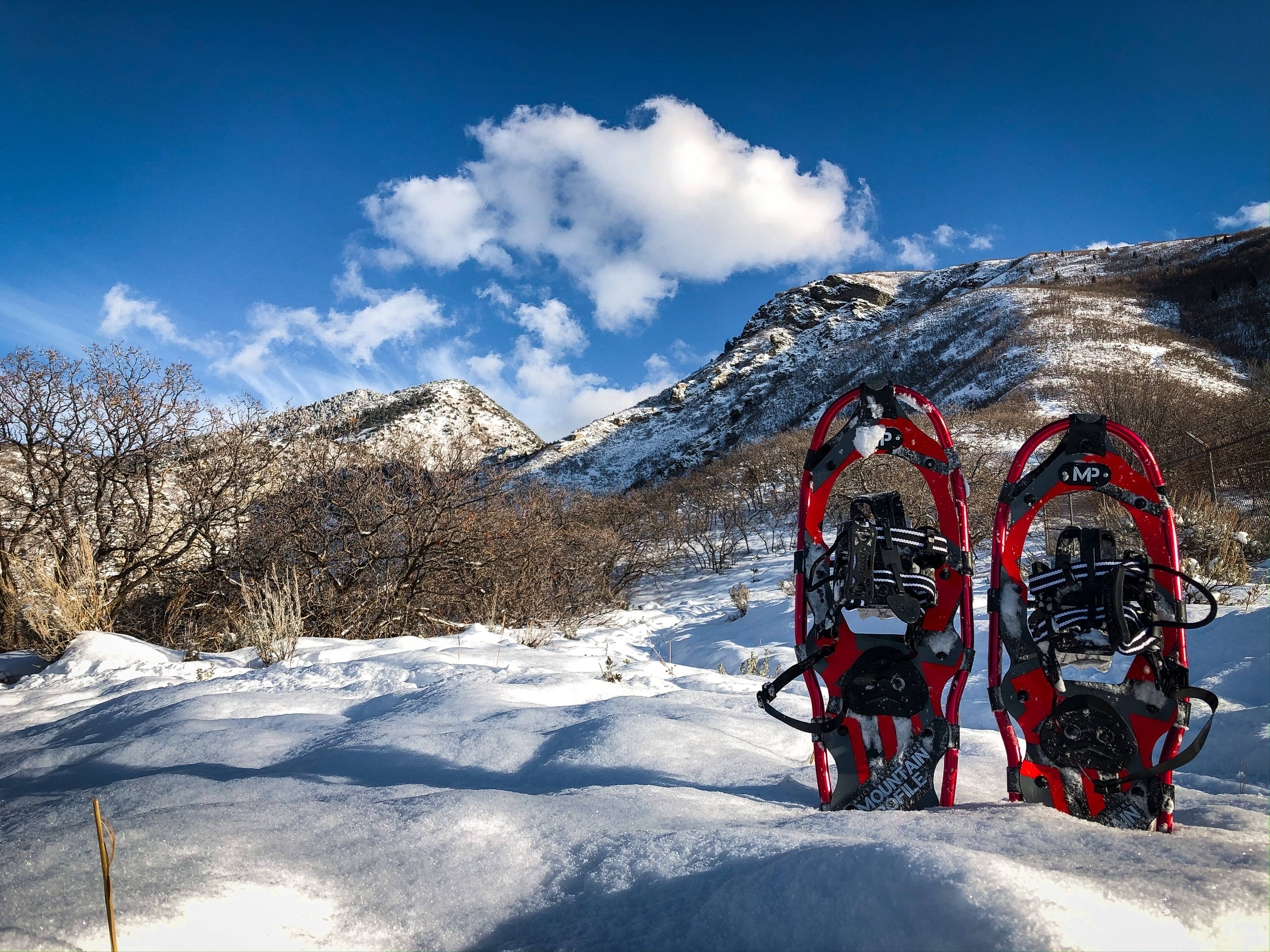 Before we get into the how; the snowshoeing tips, where to snowshoe, and other related questions. Here is a look at why snowshoeing is such a great winter sport.
Low impact:

Like, very low impact. somewhere between aqua aerobics and jogging uphill (which compared to regular running is almost non existent FYI).

Get outside:

Sunshine is good for the soul, and in the winter months when days are shorter it's important for your mental health to get out every now and then.

Trails look different:

If you've gotten used to your terrain in the summer, fresh snow always provides a clean new perspective.

Inexpensive:

Especially when compared to other alpine sports, snowshoeing has a low entry fee. The other alternative is this 7 day private heli-skiing tour in Alaska for 12.5 thousand dollars. Pretty much the only thing cheaper to do in the winter than snowshoeing, is having a snowball fight, but even that can get costly if Chad takes things too far again and someone ends up with a split forehead that needs to get super glued back together at the local family practice.

Great Workout:

Thighs, glutes, hamstrings, calves... Snowshoeing is no walk in the park (I guess it could be; technically, a walk in the park) but it is a leg burner. Heavier foot-lift, softer terrain, and potentially steep climbs ensure you'll be breaking a sweat.

Family friendly:

Since snowshoeing is not overly complicated, everyone is able to enjoy it regardless of experience, including the kiddos. There is also the option of throwing little ones in a sled while you pull them around. You can even bring the pups with these sweet snow-boots for your good boy.
Snowshoeing is a low cost, high reward, activity that provides epic scenery and a solid workout. Whats not to love? Alright let's get into it.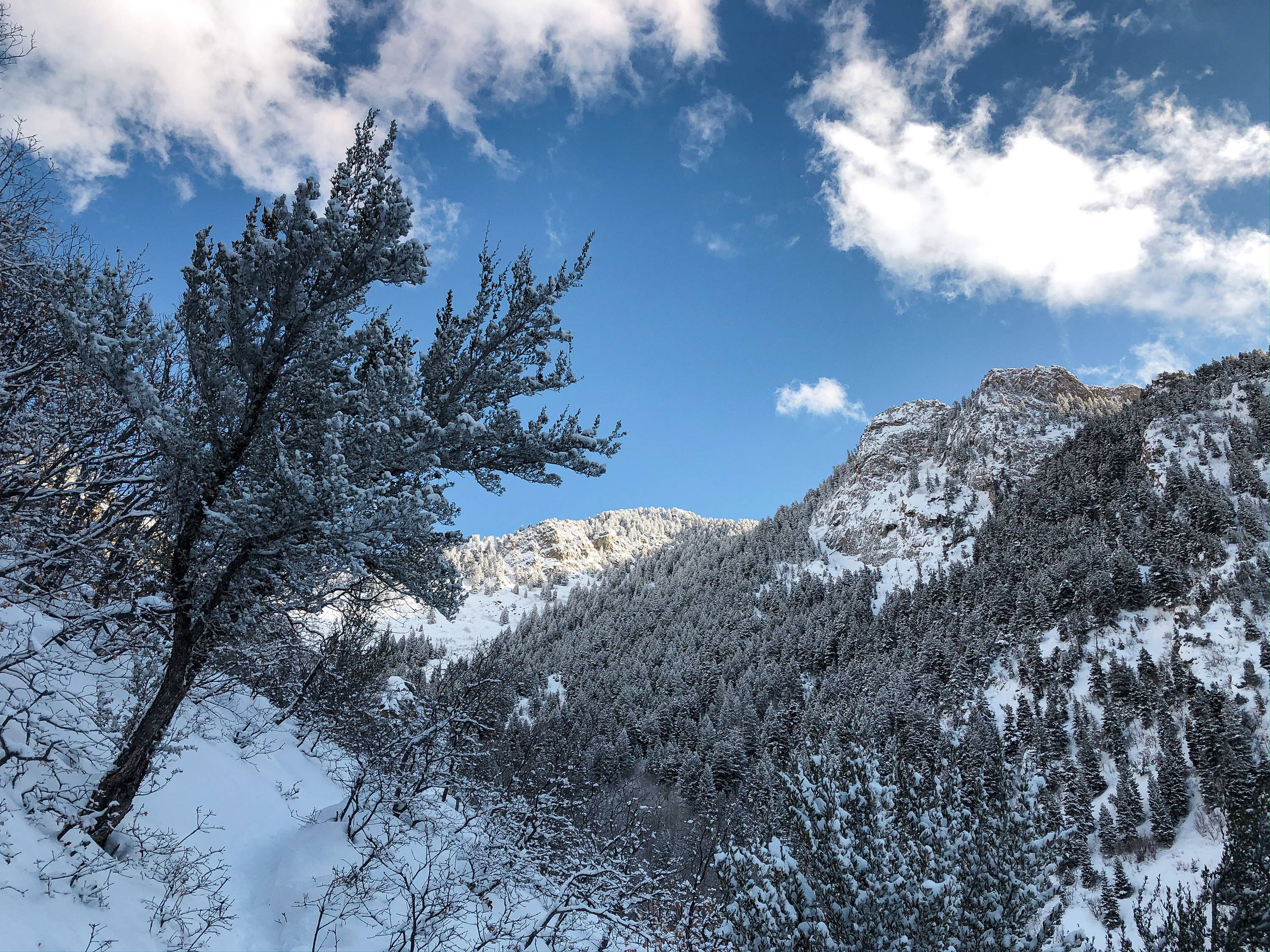 Snow shoes all have the same concept, with a large variance on specifics. Some are great for beginners, some a great for back-country, and some are great for snow shoe racing (which is becoming popular, because why not?) The thing is, not one snow shoe can do it all perfectly, so it's a good idea to think about what you want out of your snowshoeing experience! Here are a few things to keep in mind
Consider what you want your Snowshoes for: for example:

General Fitness

exploring back country

snow shoe running

backpacking.

Snowshoe size

. The larger the snowshoe the more "float" you have. Great for back country and powder. A larger contact patch means your weight is displaced more evenly on the snow's surface, giving you the ability to trek soft and deep conditions. Large also means heavy, so don't expect a feathery experience if you want to do any "running" in a shoe of this category.

Weight:

This is both for you and the snowshoe. As mentioned above, a larger snow shoe is typically heavier, but more expensive models can be lighter weight than cheaper counterparts; contributing to a more enjoyable experience (but money isn't everything and just getting out is what really matters)

. You will need to factor your weight into the equation (and weight of your backpack if you plan on using one) as that will also determine what size of snowshoe size you will need. Each manufacture will have a chart that will guide you to the correct size of shoe for your weight.

Budget:

Snowshoeing can be fairly inexpensive especially compared to other alpine sports. Most examples range from $70-$150 with some higher end models breaking $300. The difference between a "good enough" snow shoe vs one that is high quality and lasting isn't very drastic, that being said whatever gets you outside is the winner.
The gist: You should have a general idea of what you want your experience to be before picking a snowshoe, you also need to take terrain, weight and weight of any packs into consideration when shopping
Almost as critical as shoe selection is area selection, because the two are intertwined. Match the snow shows to the terrain. (i.e. don't wear the biggest snow shoes you can find and then go hike a heavily populated trail where the snow is already packed down. We are going to get into the "where" next, but before we list your options, here are few nuggets of advice to keep in mind
Experience level: Back country should be reserved for when you have all the proper equipment and experience to know a.) Where is safe and b.) How to stay safe.

Who you go with

: This may seem obvious but we will lay it out anyway, if you go with someone experienced expect to be able to do more piggy backing off of their knowledge. On the other side of that, don't subject your friend to some monster summit attempt if they aren't on the same fitness level.

Fitness level:

Speaking of, take a few test runs before attempting challenging trails as you might find familiar trails more difficult with snowshoes.

Time of Day:

A less obvious tip, but a valuable one. Consider where you plan to hike, and if it's going to be in the sun or cast in shade, the time of day will play a role here as well. Taking a few extra moments to think about this detail will greatly impact your experience as you will be able to better prepare and dress appropriately. With lower temperatures and snow covered ground, shade can make things cold real fast.

Type of Trail

: A heavily trafficked trail can be great if snow is fresh, but after a few days it can make snowshoes unnecessary, and if it's a heavily trafficked trail that also sees some shade, expect conditions to ice over. Snow shoes over ice aren't very much fun. Lightly trafficked trails are great most winter for snowshoeing as it can provide a chance to take path you wouldn't normally choose. Make sure you have the proper equipment for whatever trail you choose
Anywhere you typically trail run, hike, adventure during the summer months

Ski resorts with cross country trails

State and National parks

Back-country: One of the biggest benefits of snowshoeing is being able to cut new trail and experience new vantage points. With a few feet of snow on the ground you aren't damaging the environment or causing excess erosion by venturing off the beaten path. Stay safe (covered more below) but go crazy!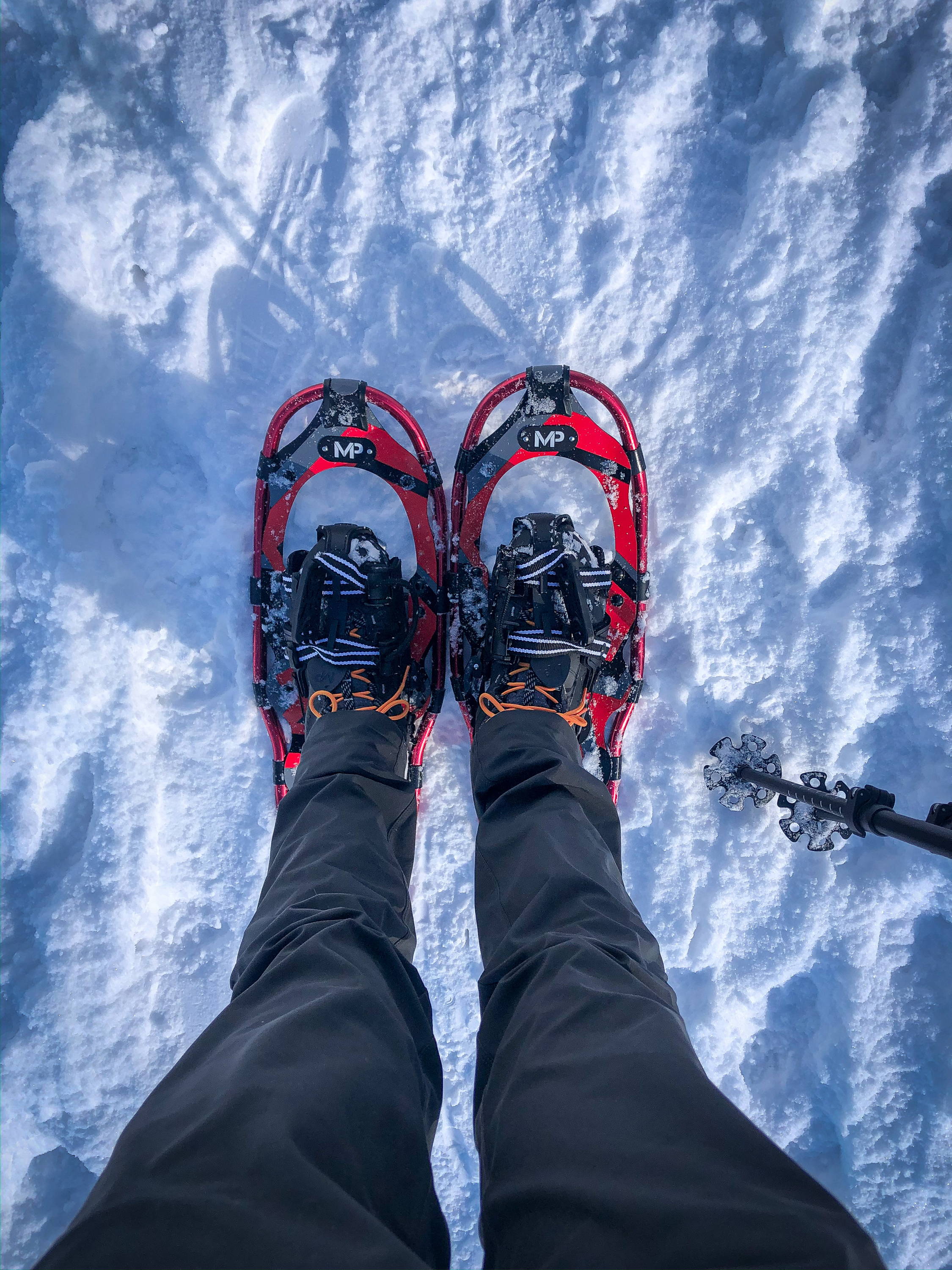 Clothing

Base layer:

Lightweight, This should be based on the outside temps and how much effort you plan to exert. For example I generally dress as if it's 10-15 degrees warmer than it actually is if I'm hiking, or 20 degrees if I'm trail running (i.e. if the thermometer* says it's 30, I will dress like it's 40-50 depending, and then layer from there.

Mid layer

: Soft shells are friends.

Top (outer) layer:

Waterproof shells that still allow you to move freely, any zip vents are welcome that you can open up when things get toasty.

Gloves

: A good pair of snow gloves or mittens that are designed for winter sports like skiing or snowboarding do the trick, a pair of wool gloves underneath with some hand-warmers can provide extra warmth.

Head-wear

: A simple knit beanie goes a long way at keeping warmth in. A balaclava is a good idea if temps are really low, A beard is a suitable replacement for a balaclava.

Boots: Your typical snow boot or hiking boot should do the trick as long as it can keep you warm. Most snow shoes will strap over any footwear so it's mostly a matter of comfort. A good snow hiking boot will keep you warm and provide enough structure that the binding of the snow boot won't cause any discomfort. For running, a pair of winter specific trail running shoes are great. They are lightweight and typically have built in gators to keep the snow from getting in and soggyfying your socks.
Trekking Poles: Poles Will allow you to take some pressure off of your legs and get in a full body workout, they also add stabilization and assistance when traversing obstacles, difficult terrain, or when fighting up the vert monster.
Pole varieties
Collapsing

: typically fold 2-3 times, and generally have an extendable base for height adjustment. These can be stowed away easily in a backpack or hydration pack when not in use. Need them to deploy fast and collapse fast? Poles like the Black Diamond Z have a conical design on the pole ends that allow it to snap together in a jiffy (ever play with one of those collapsing figurines from a gift shop? It's kinda like that)

Telescoping

: Similar to collapsing but with a different execution. Theses poles extend to length via telescoping out and then locking into place.

Solid construction

: Simple, light, functional. No hassle poles but at the price of pack-ability

Materials:

Most poles are either a lightweight alloy or carbon layup. Carbon is going to be more expensive, but the lighter wallet makes for lighter poles. When purchasing carbon we suggest buying from reputable brands that stress test their products and will provide warranty should it be needed.

Snow basket

. That plastic circle on the bottom, you need it.. (ask my broken carbon pole why). Without a sturdy snow basket if your pole sinks into the snow while traveling fast or applying weight, you can bend or break your pole, fall over yourself, and potentially get injured.
Whatever pole you end up with, make sure the size is suited to you and that it is adjusted (where applicable) to your height. You should have your elbows at a 90 degree angle with the handle on the ground while holding the pole upside down by the snow basket.
Gaiters: If your boots or trail runners don't have built in shields to keep the pow pow from getting your socks wet, a pair of gaiters is a cheap trick to ensure dry ankles (and subsequently dry feet)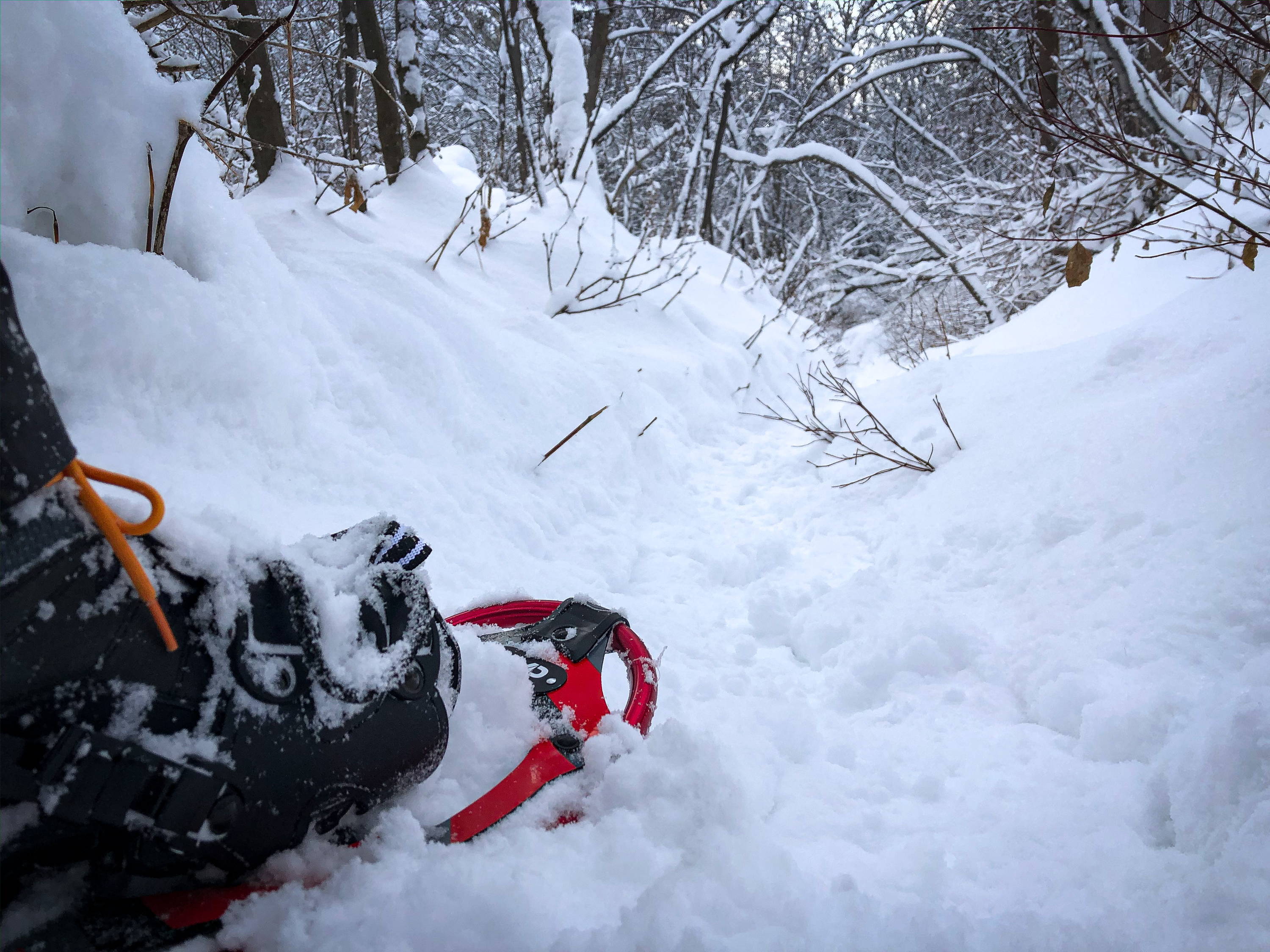 Snow shoeing is a simple "one foot in front of the other" process with a few exceptions. Whenever you are not on flat terrain, you want to create a step-able shelf for yourself. This is executed in different ways depending on your approach.
Climbing:

If the snow is soft, Kick your toe in first to establish a flat foot "shelf" then step up. If the snow is solid or firm, you will need to simply use the traction of the snowshoe and walk up like you normally would.

Descending

: Same as above, if the snow is soft you want to establish a flat spot, so kick your heel in first and walk down the slope with your weight shifted a little back.

Traversing:

Side stepping, kick the uphill side of your foot into the snow first
Although this is a more crucial component of back country snowshoeing and other alpine sports, good safety practice is always encouraged when it comes to snow sports. The potential hazards of snowshoeing include getting caught unexpectedly in a storm, avalanche dangers, falling into creek-crossings, or rock wells where snow pack isn't substantial enough to support your weight.
Make sure to bring the following items on any journey
Lip balm

Nutrition (Trail Truffles don't freeze and make a great portable option)

Water

GPS tracker or phone with tracking enabled

sun screen

sun glasses
Loner journeys will require more equipment. If you plan to spend a lot of time exploring back-country it would be wise to take some avalanche preparedness classes and acquire the necessary gear, (probe, shovel, beacon, GPS) and get adequately trained.

We encourage everyone to always go snowshoeing in a group and never alone.
Questions? Comments? Ideas on what we should do next for the Intro Series? Feel free to comment below! We love to hear from our readers.
#seeyouonthetrail